Oyo is India's largest hotel chain business and is also working in real estate in another. In such a situation, it is giving this opportunity to house owner, PG & Hotel owner that everyone can earn money by joining with Oyo. Here in this post, we are going to get the same information that how to earn by attaching hotel and home with Oyo?
In such a situation, if you have such a house, PG and hotel and you want to attach it with Oyo. So for this you will get complete information here. With the help of OYO Partnership Process, you can earn money from any of your vacant buildings, properties. So far Oyo rooms may have seen that only the hotels were able to join, but a new plan has now included residential apartments as well. Under this, any flat, house owner can connect their house with Oyo and in return they will get money from Oyo every month.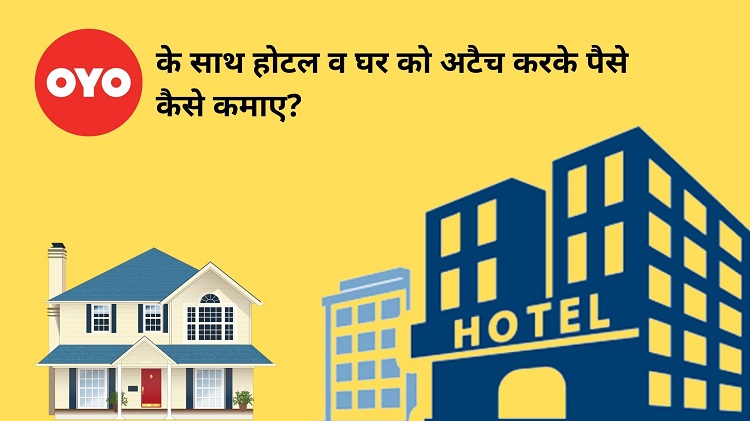 To understand this whole process, let's know about it in detail.
How to register your hotel & home with OYO?
If you want to tie up with Oyo, you want to register your hotel or home with Oyo rooms. So it requires some documents and identification. We know here in detail.
If you have a building or house, then you must have a permit to use it as a commercial property. If this is not a permit, you can go to the Municipal office of your city and get information about it.
The building and house owner should have a permit or clearance of the fire department, for this you can also contact the local fire department office, from this you will get the permit.
If you are thinking of building a hotel or renting your house, then you have to get a permit from the police, for which you have to fill the form given in the police station and submit it.
These are the three most important requirements for Oyo rooms partnership, which should be with the building and the house owner, with whom the house or building is named, the location is said, what is the provision of public safety, all the information that Oyo needs. Because Oyo gives all of this on rent, it is important to take care of the safety of the guest.
Note: If you do business in advance, then you must know that the trade license is necessary for any type of business. In such a situation, if you are going to do business by connecting a hotel or home with Oyo, then you have to get a trade license.
With all these terms, Oyo also has its own conditions that every connecting hotel has to follow. To connect your hotel with Oyo Rooms, you will need to fulfill these conditions.
Read: How to book Unmarried Couple Oyo Hotel?
Oyo Channel Partners Agreement:
The hotel should have the facility of 12PM check-in and 11 AM check-out if a guest requests it on his own. So he can check out ahead of time.
Breakfast should be available to all guests before 7:30 am or earlier.
The place of eating should be clean and fresh and hot food should be served to all the guests.
No food menu should be repeated before 7 days, ie there should be a new menu every day.
Rooms should be clean and no type of dirty should be seen in the room.
Full agreement from here Read
How to make money by attaching hotel and home with Oyo?
If all the necessary documents of your house or hotel and all the conditions mentioned by Oyo are approved, then you are ready to connect your hotel or house with Oyo. After the partnership, you will get the rent of all the guests who will come to you, just Oyo will charge you some% for it, which is 20% to 30% according to Quora.
step 1. First of all, the hotel or home owner will have to get all their details ready.
Step 2. Now you have to book appointment with Oyo executive for this Online form You can request by filling it.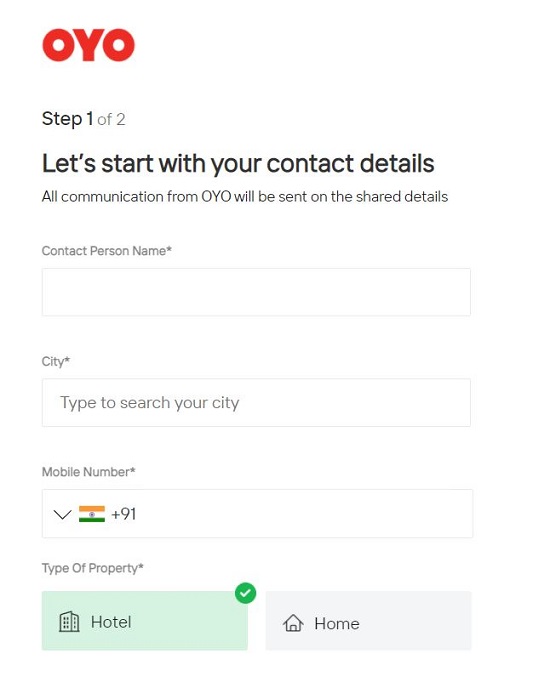 Step 3. Now you will get a call from Oyo and will give you all the information about attaching the house or hotel, if you agree then your process will start.
Why should you join Oyo?
1M + Rooms has joined Oyo at this time and is making good money. In such a situation, if you have a house lying vacant or you are a hotel owner, then you can increase your income and get rid of the work of finding customers by connecting with Oyo. Many business owners who have joined with it have also shared their experience.
Oyo's team understands the details about the channel to their partners in detail and provides all the necessary help that the owner needs.
Information and advice about revenue management is also given to the owner and in various ways information is also given about increasing revenue with the help of workshop.
Both the owner and the guest are supported immediately whenever needed and every possible problem is solved.
How much money can you make from Oyo Rooms?
As you join Oyo rooms partnership program, your income starts, Oyo brings guest for you, you get his money. But many partners get confused after booking how much money the owner gets and how much money Oyo takes.
After joining with Oyo, how much revenue you will get, how much Oyo will take, only then you will get information because it depends on the location and quality. But if the experts agree, the owner gets 70% of each booking and Oyo keeps 30% himself.
As soon as your hotel or house connects with it, then you do not need to do anything, the customer brings the OYO himself and if he tries. None of your rooms should be empty. With this, your revenue increases rapidly. Like if your hotel used to stay 20% book earlier, now after joining Oyo, it will remain 90% to 100% booked.
Here's how friends can connect hotels and homes with Oyo? And what does the owner need for this? And how he can make money by connecting his house or hotel with Oyo. If you have any advice or suggestion about this, then do tell in the comment.