Guest Posting is a way to get more traffic to your site, build relationships with influencers, and establish you as an authority in your industry. The benefits a guest post can bring are significant, but the process can be a bit confusing. In this blog, we'll look at some of the most popular guest posting sites, how to find quality guest posting sites and how to get started. With a little bit of work, you can get a lot of results from free guest posting.
What is a guest posting?
A guest post is a piece of content that is posted on someone else's blog. It is usually written by someone outside of the blog's staff and is used to get more exposure on the web. You don't need to be a pro blogger to start this field! The easiest way to get started is to find a blog that you would like to post on. Ensure that you read the site's posting guidelines because they will advise you of their standards and audience. The guidelines are there to make sure that you know what you are getting into and that you will deliver a high-quality post.
There are many benefits to guest posting, such as: –
Exposure to a new audience
Get backlinks to your own site
Established a relationship with another blogger
Reinforce your credibility
Get more traffic
Gain more social shares
What are the qualities of a good guest posting site?
Finding the right free guest posting site is hard. If you're a blogger, you will also have to find a way to keep your readers coming back. Guest posting is one of the best ways to do this. The best guest posting sites are ones that are reputable and allow you to submit your articles to a broad audience. Free Guest posting is a complex process and there are usually a few different strategies you can apply. You'll need to worry about finding a good guest posting site in India if you're just starting out. It's the best way to get your foot in the door. At the same time, you have to make sure the sites you contact are reputable. There are a lot of untrustworthy sites out there and some of them will take your hard work and publish it as their own. For this reason, you need to be careful.
What to do after a guest post is published?
Guest blogging is the best way to build backlinks to your website and increase your website traffic. But, it's not as easy as it sounds. It takes a lot of time and effort to find reputable guest posting sites in India, pitch your article and make sure it's published. Unfortunately, the published articles don't get much traffic, backlinks, or shares most of the time. It's quite frustrating to finally publish a guest post on a respected site, only to find it doesn't bring any benefits to your business.
To make sure this doesn't happen to you, make sure you do the following things after your guest post is published:
Share it on your social media profiles.
Include the link to your guest post in your email signature.
Include the link in your weekly newsletter.
Email the publisher thanking him for the opportunity to write for his site.
Email some of your friends and let them know you have a published article on a reputable site.
Make sure the article includes a link to your own website.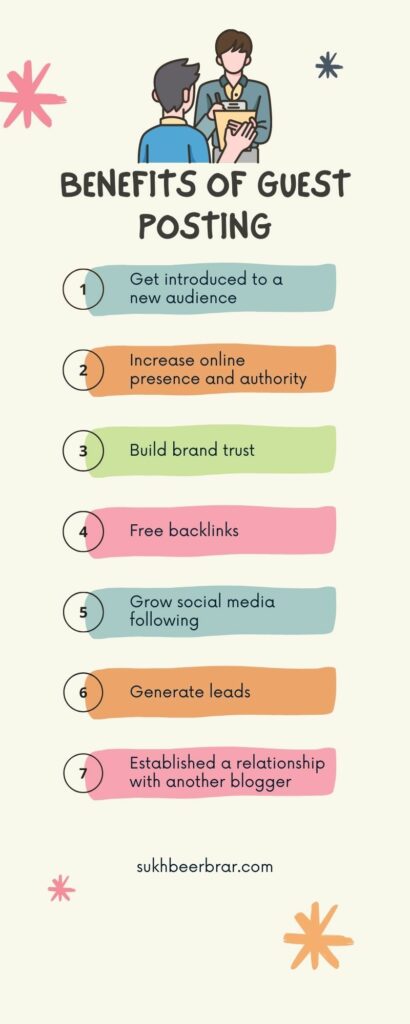 What are guidelines for guest posting site?
All High Authority websites that accept guest posts receive hundreds of emails related to guest posts daily. It is not possible to publish all these posts on the website. So they Only publish posts on the website that are High Quality, Original and Unique. Apart from this, these websites also have a lot of Guidelines, but in this post, we will only talk about those Guidelines in detail, which are the same for every Best Guest Posting website.
Write Article with Similar Pattern
First of all, read many of the website posts for which you are writing a guest post and see the pattern of these posts. In these, you have to pay special attention to the introduction paragraph, heading, subheading and Images. The tone of your article should be similar to their previous post. If the Guest Posting Website Editor team needs to do more modifications, then they will leave your post. Because They have many more guest posts pending in Queue.
Break up your content
When writing an article, divide it into smaller parts using Heading, Subheading, Bullet Points and Graphics elements. Doing so will make it easier for the audience to read the article and increase readability.
Write in a natural, conversational tone
Writing for the web is not the same as writing for print. When writing for the web, you want to write for your audience, not for the search engines. The key to writing for the web is to write naturally like you would speak. You don't want to stuff keywords in your writing or try to sound like an expert. Remember, you're not trying to impress the search engines. You're trying to impress the readers. When writing a guest post, you're not writing for your blog, you're writing for your readers. Write in a conversational tone and include the same information you would include in a post you'd write for your own blog.
All content MUST BE ORIGINAL & UNIQUE
Your article should be original and unique. Your written article should not be published on any other website first and you cannot copy someone else's content and send it as a guest post. If your content is original, then before sending it for a guest post, make sure that the website has already written an article on this topic. If the blog already covers the topic you have written but your content is up-to-date and adds new values, ​​you can still send it.
We have further shared one such method with you. This will allow you to check if the Guest Posting website has already covered your topic. To check, you have to replace the blog domain with a search operator site:example.com [topic] and change the topic with your topic. You do not have to use brackets when searching on Google
How to find a legit guest posting sites?
We've all heard of free guest posting, but not everyone knows the full value it can provide for getting your brand in front of new audiences, building links, and tapping into new sources of traffic and leads. It can be fairly easy to do, but there is a right and wrong way to do it. Many people who are new to the world of blogging are often unsure of where to start or end up posting on a site that isn't reputable. This article is written for people who have never guest posted before or have guest posted once or twice and want to learn more about where to find guest posting opportunities and how to get the most out of them. We'll cover 20+ most popular free guest posting sites in India with an exclusive bonus guide to get you started.
| Website Name | Domain Name |
| --- | --- |
| Copyblogger | copyblogger.com |
| HubSpot | www.hubspot.com |
| Tech Crunch | techcrunch.com |
| Business Insider | www.businessinsider.com |
| Social Media Examiner | www.socialmediaexaminer.com |
| PandaDoc | www.pandadoc.com |
| Medium | medium.com |
| Web And Designers | www.webanddesigners.com |
| CMO | www.cmo.com.au |
| ReadWrite | readwrite.com |
| MarketingProfs | www.marketingprofs.com |
| Design Milk | design-milk.com |
| Inc.com | www.inc.com |
| Smashing Magazine | www.smashingmagazine.com |
| Daily Blog Tips | dailyblogtips.com |
| Idea Scale | ideascale.com |
| Web Design Ledger | webdesignledger.com |
| Mashable | mashable.com |
| Sitepoint | www.sitepoint.com |
| Ignite Visibility | ignitevisibility.com |
| Lifehack | www.lifehack.org |
| Basic Blog Tips | basicblogtips.com |
| Sukhbeer Brar | www.sukhbeerbrar.com |
Above, we have mentioned some websites that accept guest posts in the table, but it is mostly related to technology. You may be looking for a related website with another category. So we have a trick and hack with which you can find unlimited Guest Post websites related to your category, which we have mentioned below.
To find a guest post website related to your category, you have to do a Google search for the "write for us" category and change the category with your guest post category, for example:
"write for us" Health
"write for us" Fashion
"write for us" Finance
There are also some other search terms that you can easily find other best guest post sites in India by searching.
"become a guest blogger"
"guest post"
"submit content"
"contributing writer"
"guest blogger"
"guest posts wanted"
"submit blog post"
"write for us"
"contribute to our site"
"submit post"
"want to write for"
"submit your content"
"guest article"
"submit news"
Conclusion
Finding a legitimate free guest posting site is easier than you think! With 20+ most popular guest posting sites and using our special google search tricks, you are sure to find one that fits your needs. We hope you've enjoyed this blog post and learned something! If you have any questions, feel free to comment below.